Autonomous freight transportation is in fact here. ItR17;s just being used with rail transport, not trucks.
An article last week from the Wall Street Journal says mining giant Rio Tinto Rio spent 10 years developing its driverless train system, which it calls AutoHaul. Now, the system manages some 200 locomotives with no drivers that move iron ore from mines in the interior of Australia in to coastal ports.
Supply Chain Digest Says…
After making those investments relative to use of GPS information and track data, the rail carriers now have platform that could allow them to operate trains more independently

---
What do you say?
Click here to send us your comments

Click here to see reader feedback
The trains are operated hundreds of miles away in the city of Perth, with the fully driverless approach now in operation for about a month, running on about 1000 miles of rail track.
This type of automation and more is likely coming to US railways sooner rather than later. This new era of technology, the Journal report says, will automate many tasks once handled by crew and lead to fluid rail networks that operate something like a model train set, versus the many stops and starts seen in today's networks.
It is the logical conclusion of the approach to "precision railroading" championed by the late Hunter Harrison as CEO of CSX and prior to that both major Canadian rail carriers.
In terms of opportunity, today a rather substantial distance is kept between trains due to the range of skills and execution across drivers. Finding ways to reduce that buffer through automation could significantly increase effective rail capacity.
What's more, some one-third of rail accidents involve human error, according to the data from the Association of American Railroads.
The Journal says the Rio Tinto's trains complete an average return journey of 500 miles in 40 hours. Before, the company had to shuttle nearly 100 drivers around the Australian outback to switch train drivers three times for each journey. That totaled almost a million miles of transport per year, with the crew changeovers adding more than an hour to each return train trip.
With the new system, a train controller in Perth sets the route, then computers both at the center and on-board the trains make all the decisions.
"What AutoHaul does is drive it better than the best driver, every time," says a Rio Tinto executive.
It wasn't easy for the company to get here though. The project ran three years late and ultimately cost almost double the original budget.


Concern about Jobs
There has been much discussion about the impact someday of autonomous trucking on driver jobs, with some predicting millions of jobs lost and others saying total driver jobs will actually increase, though many linehaul driver positions could be automated away.
US freight trains are typically staffed by a conductor and engineer. While the railroads say the goal isn't to do away with drivers immediately, tey generally acknowledge to one-person crews is likely as new technologies are implemented.
(See More Below)
CATEGORY SPONSOR: SOFTEON

Learn More about Softeon's Innovative Supply Chain Solutions


Naturally, the unions aren't happy about the direction.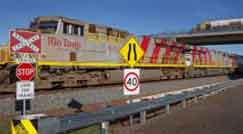 "Americans want a rail network and a transportation system that serves the people, not one that simply makes money for stockholders by eliminating good jobs and quality rail service," Railroad Workers United, a coalition of unions, said in a statement submitted last year to the Federal Railroad Administration, which was seeking comments on the future of automation in the industry. The organization opposes crews of fewer than two people.
Track inspections are another task now performed by humans that some say would be less expensive and be of higher quality if machines did the job.
It will also take a lot of regulatory change in the US to see driverless trains, not as much of an issue in the largely unpopulated area the Rio Tinto system operates in.
Of note, the US Department of Transportation released guidelines on autonomous vehicles last October, but had little to say on driverless rail technologies in the report.
Ironically, for years US rail carriers fought against rule changes that required a highly expensive "positive train control technology," designed to automatically stop a train to prevent collisions. But after making those investments relative to use of GPS information and track data, the rail carriers now have platform that could allow them to operate trains more independently.
"The Rio Tinto example clearly shows the technology is here," John Scheib, chief legal officer at Norfolk Southern, told the Journal "It shows that our regulator needs to move more quickly to open the doors to such technologies."
Do you think we will see autonomous rail freight in US any time soon? Let us know your thoughts at the Feedback section below.


Source link
thanks you RSS link
( http://www.scdigest.com/ontarget/19-01-22-1.php?CID=15089)