It is possible to remember when times were good for ocean container carriers, which included most of the years since the turn of the century until the Great Recession of 2008.
But it has mostly been tough times since then, with demand slowing dramatically, as global trade growth in recent years being no more than or even in some cases below global GDP growth. That contrasts with years before the recession in which trade was often two times economic growth, as globalization forces were let loose.
Supply Chain Digest Says…

Maersk Line, the sector's largest carrier by capacity, recently said it expects container demand growth to fall to 1% to 3% this year from about 3.8% last year.

---
What do you say?
Click here to send us your comments

Click here to see reader feedback
That has left the carriers it seems with alternating years of mediocre financial performance and then truly lousy ones, with lots of red ink across the industry.
What has been bad news for carriers is good news for container shippers. As shown in the chart below, from the Wall Street Journal based on data from the analysts at Braemar ACM Shipbroking, since 2017 rates for carriers on both routes to the US West Coast and European ports of call have generally been well below the carriers' breakeven points.
The shipping lines haven't helped themselves with on-going orders for ever larger megaships, which while in theory should deliver lower per container operating costs, have also served to continue to expand total sector capacity in the face of the flattening of demand.
And the carriers have struggled to fill the ships, negating the expected cost benefits. Shippers also don't like the less frequent arrivals at ports of call.
Other factors are also plaguing the container carriers. As we've reported many times, new global rules for low sulfur emissions – which will require either more expensive fuels or installation of expensive scrubbers, could cost the container shipping industry as much as $10 billion annually when it goes into effect at the beginning of next year. Some in the industry expect the rules to increase carrier fuel costs by as much as 33%.
But that is just a guess – no one is really sure how much the low sulfur fuels will cost.
Container Rates Continue to be Mostly below Costs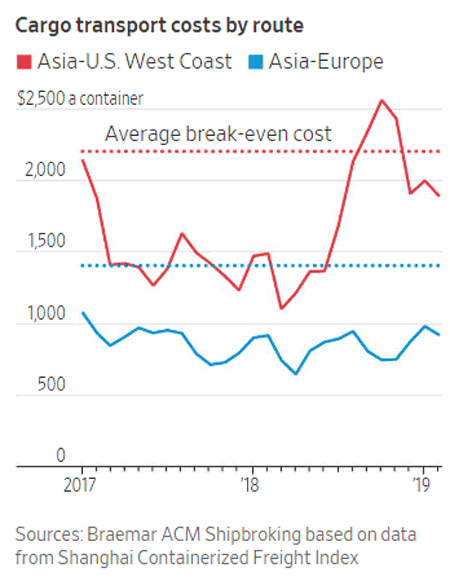 Source: Wall Street Journal
"It has turned the shipping market, the transportation market, into a casino," said Andreas Hadjiyiannis, president of the Cyprus Union of Shipowners, according to the Wall Street Journal.
(See More Below)
CATEGORY SPONSOR: SOFTEON

Learn More about Softeon's Innovative Supply Chain Solutions
The carriers hope to pass those huge costs on to shippers, but their success at achieving that for other new costs in the past has been spotty at best.
Then there is a further decline in global trade resulting from an economic slowdown in China, and the tariffs imposed by the US on billions of dollars of imports.
In the face of that, Maersk Line, the sector's largest carrier by capacity, recently said it expects container demand growth to fall to 1% to 3% this year from about 3.8% last year.
Looking out a little further, Braemar ACM Shipbroking estimates demand for container shipping will rise between 2% and 3% annually over the next four years – but the carriers are predicted to expand capacity at a faster 5% annual rate.
And carriers have certainly not been viewed as always making the smartest pricing decisions, cutting rates to money-losing levels to maintain market share.
In a report last week, Wall Street analyst David Kerstens of Jefferies LLC wrote that irrational behavior with price competition remains the key risk factor and could potentially trigger the fourth wave of sector consolidation and a shakeout among some of the smaller loss-making and financially distressed Asian carriers."
So the story for the container carriers continues on – as does the situation for shippers, who look to enjoy low rates for the foreseeable future.
Do you expect container rates to stay in the toilet? Why or why not? Let us know your thoughts at the Feedback section below.


Source link
thanks you RSS link
( http://www.scdigest.com/ontarget/19-05-05-2.php?CID=15254)