Walmart, known for its miles of conveyors in its hundreds of DCs but with relatively little new age automation, announced it would be breaking ground on a new model grocery distribution center in Shafter, CA that it says will increase throughput by some 40% versus its existing designs.
3;
Supply Chain Digest Says…

Walmart says that many of the positions in the new DC will be technology-focused or STEM jobs, without adding much in the way of detail.

---
What do you say?
Click here to send us your comments

Click here to see reader feedback
The retailer's announcement said this will be "Walmart's first high-tech distribution center for fresh and frozen groceries."
Set to open fall 2020, the new DC will use technology from European company WITRON (pronounced V-tron) to process grocery perishables. While details are scarce, this will involve automated storage and retrieval systems (AS/RS) and automated palletization both in terms of handling and the smarts to build ideal pallets.
The new DC will support about 200 Walmart stores.
The automation will not only reduce labor costs but also the pallet building smarts should reduce product damage that occurs when say heavier cartons are placed on top of lighter ones, as can often occur when humans are making pallet building decisions.
"Every product is measured and documented so that we know how to handle it," said Shayne Wahlmeier, one of the Walmart engineers on the project. "A computer algorithm shows all the cases ordered for a given store and determines how to palletize them to maximize the space on a pallet or trailer. It also takes into account density – what's crushable, what's not."
"Grocery is the tip of the spear in the retail battle," Tim Cooper, senior VP of supply chain at Walmart said in an interview with Yahoo Finance. "When I think about this, I think this solution could position us to take a lower margin commodity because grocery is lower margin we can reduce the cost to move groceries, which then allows us to keep prices lower. And in doing that, we are passing along the savings to the customer. I think this technology is an enabler in the long term to do what we do at a reduced cost."
Walmart has 42 grocery distribution centers for perishable goods in the US, generally employing 350 to 700 workers.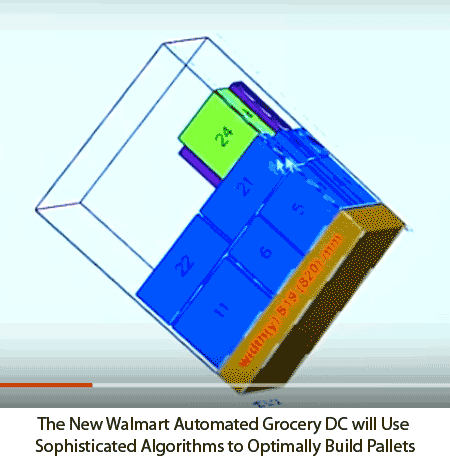 Interestingly, Walmart is pitching the new DC design as improving the life of the worker in addition to driving greater efficiencies for itself.
(See More Below)
CATEGORY SPONSOR: SOFTEON

Learn More about Softeon's Innovative Supply Chain Solutions
"The order-filling position is an arduous one," Cooper noted, adding that while the supply chain is the backbone of Walmart's business, the jobs of the future might be less physically demanding.
"We know that the work that we do is rigorous. To be quite frank, I don't know that people are interested in as working as hard as they have to work now," Cooper told Yahoo. "We're in a "people-go-to-goods" scenario. The trend or the change in the way people work is goods coming to person and jobs that allow an interface with technology and the physical portion."
Updating the antiquated systems will help transform these physically demanding warehouse jobs, Cooper added.
In fact, Walmart says that many of the positions in the new DC will be technology-focused or STEM jobs, without adding much in the way of detail.
"The beauty of it is we're not outpacing our current associates," Cooper also told Yahoo.

"I think our current associates want to apply these skills to the job. The job just doesn't call for it. The job calls for a stronger back right now than some of these STEM components," he said.
That transition will involve extensive training, Walmart says. It is in the early stages of starting up a Supply Chain Academy.
"The expectation is that we're going to create the educational platform that allows us to bring our associates along with us on the journey through very structured training that not only addresses general business acumen and things you need to know to be a good operator in a facility, but those skills that you need to grow with the company professionally," Cooper said.
Walmart says the new DC will create hundreds of jobs, but there were no specifics on the amount of jobs this new DC versus the traditional design.
But the payback Walmart must plan to be receiving from the tens of millions it is spending on this automation has to come from somewhere.
What's your take on Walmart's new DC? Let us your thoughts at the Feedback section below or the link above to send an email.


Source link
thanks you RSS link
( http://www.scdigest.com/ontarget/18-10-24-1.php?CID=14812)